James Kennedy
You're viewing an archived page. It is no longer being updated.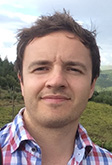 Since graduating in 2005 from the University of Limerick, Ireland with a BSc in IT and Telecommunications, James has worked in the technology industry prior to focusing on Internet operations from 2009 onwards. After holding the position of IP Resource Analyst at the RIPE NCC, he established the new discipline and framework of IP address management within Liberty Global, a Tier 1 international Internet access provider.
James has authored RIPE address policy, co-chaired the RIPE Database Requirements Task Force and has been elected by the RIPE community to serve on the NRO Number Council.