Publications and Presentations
Member Update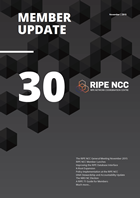 Issue 30: November 2015 Latest Edition
The RIPE NCC General Meeting November 2015
RIPE NCC Member Lunches
K-root Expansion
Improving the RIPE Database Interface
Policy Implementation at the RIPE NCC
Much, much more...
Presentations by Staff
The RIPE NCC gives presentations on many Internet administration-related topics.

If you are holding an event and would like a speaker from the RIPE NCC to attend, please contact us at speaker _at_ ripe _dot_ net. Find out more about the RIPE NCC's speakers and the topics that we can present.
Annual Report
The RIPE NCC Annual Report is published each year in April and provides an overview of the our financial position, the activities carried out and the services offered to members.