Organisational Sustainability
Organisational Sustainability is one of the four strategic pillars of the RIPE NCC. It includes the activities of the HR, Legal, Finance, Information Security and Compliance, and Facilities and Administration teams. Here is an overview of all the activity leads that are included under Organisational Sustainability.
Hans Petter Holen is the RIPE NCC Managing Director.
Daniella Coutinho is Executive assistant to the Managing Director and coordinates activities for the Executive board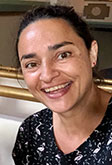 Regina Serrão is the Facilities, Administration and Reception Manager
Simon-Jan Haytink is the Finance Manager.


Carolien Vos is the HR Director. She is responsible for developing and implementing the organisation's human resource strategy so that the organisation attracts, develops and retains the employees it needs to achieve its current and future business objectives.
Ivo Dijkhuis, Senior Information Security Officer, is the acting lead of Information Security and Compliance.
Athina Fragkouli is the Chief Legal Officer. She is responsible for our legal and regulatory compliance, including corporate governance matters.
Chris Buckridge is the Advisor to the MD for Global Strategic Engagement.
Eleonora Petridou is the Chief Information Security Officer (CiSO). She is responsible for ensuring that the RIPE NCC maintains necessary levels of Information security and compliance with best practices and applicable regulations.