Careers at the RIPE NCC
What We Do
Think about how heavily you rely on the Internet. Communication, commerce, administration, entertainment - the Internet plays a key role in all of this and more.
We operate in the engine room of the Internet. We provide the IP addresses that we all use to connect to the Internet. We also support the Internet community at large via technical coordination and representation in Internet governance. That's the short version - you can dive deeper into everything we do here.
The RIPE NCC is a not-for-profit organisation founded on the belief that the Internet should be governed openly, transparently and together with the wider Internet community. We are one of the oldest Internet organisations in Europe and are proud of our legacy.
Our strongest asset is our staff. We bring together more than 175 people from more than 40 countries in our modern, vibrant office in the east wing of Amsterdam Central Station. Our official working language is English, but more than 30 languages are spoken by our colleagues.
We are an international organisation serving the diverse Internet community, which is reflected by our staff. We have highly skilled employees with different backgrounds, cultures, perspectives and identities. We are an equal-opportunity employer and we often find that our differences are our greatest strengths.
How We Work
We employ the brightest talent and believe in our staff to work towards our vision of "together, let's shape the future of the Internet".
We believe in an open, bottom-up and transparent Internet governance model and want to reflect that internally too. That's why we believe in a structure where self-organisation is encouraged, with distributing domains and accountabilities in the roles where it belongs. We combine both a more conventional leadership structure with a set of purpose-driven teams to support our organisational goals. Our employees hold a number of roles, each with its own defined accountabilities and purpose, in addition to a generic job description.
The strength of purpose-driven teams empowers our teams to make decisions to achieve their desired objectives, rather than pushing decisions upwards. We also encourage cross-organisational collaboration and motivate and inspire our colleagues to use their skills and knowledge beyond the typical departmental boundaries.
RIPE NCC values
Our values help us make decisions, motivate us to provide our best effort, evaluate our performance, and shape our culture and conduct.
They reflect what we stand for and what we believe in, and they help to develop our priorities in the coming years. Each and every one of our employees is held to the same set of values that serve as the foundation for our operations and act as inspiration for our members and the RIPE community at large.
We are trustworthy
We are open
We are inclusive
We are caring
We build trust and confidence through our competence, reliability, integrity and empathy.
We work in an open and transparent way. We communicate our plans, actions and results in a clear and direct way. We give feedback honestly and constructively.
We value diversity in our people and community and treat them fairly, respectfully and equally. We seek out and respect differences and variety in ideas and opinions.
We care about each other, we care about our members and community, and we care about doing a good job.
Although our backgrounds are diverse, we all have a shared commitment to work for the good of the Internet. Do you want to join us in our mission?
Benefits
30 holidays and 3 collective days off, in addition to public holidays
Fully paid parental leave after one year of employment
Annual budgets for learning, technology, fitness and transportation
Health insurance premium reimbursed
Your Potential Colleagues
Vesna
Senior Community Development Officer
"I am connecting people from different communities and bringing them in contact with the RIPE Community."
Stella
System Engineer
"I like every aspect of working at RIPE NCC. I like the work, I like the people, the dynamic environment and the diversity."
Stephen
Specialist Front End Developer
"Within the RIPE NCC we have a lot of trust in each other in the work that we do which makes it easier to collaborate and also to enjoy the work that you do."
Pedro
Senior Technical Training & Development Officer
"By providing training content we contribute to an open and inclusive Internet community. We connect people from different parts of the world."
Application Process
1. Up to 24hrs after you apply, we'll send you a
confirmation
2.We'll invite you to a first
interview
(Zoom)
3. We might ask you to do a
short assignment
for us
4. If we feel mutually positive and want to proceed, we'll arrange a
second interview
5. If we think you're a good fit, we'll
make you an offer
6. If you accept we'll ask Validata Group to do a
background check
Get in touch
Marjolijn van Iersel
Senior Recruiter
Email: openings _at_ ripe _dot_ net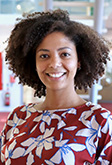 Lilis Rodriguez
Recruiter
Email: openings _at_ ripe _dot_ net