Ferenc Csorba
Expertise: IPv6, RIPE NCC and RIPE community, Internet Policy and Governance, RPSL, IPv4, Routing Registry, Regional Internet Registries (RIR) statistics.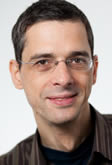 Ferenc Csorba has worked as a Trainer at the RIPE NCC since 2001.
He graduated from the University of Technology in Vienna with a Master's Degree in Electronic Engineering.
Ferenc is responsible for the ongoing development of the LIR Training Course. He gives training courses throughout Europe, the Middle East and parts of Central Asia on a number of topics, including: Local Internet Registries (LIR), IPv6, and the Routing Registry.
He also gives presentations at conferences and industry events.
Ferenc speaks English, German, Dutch, Spanish, Italian, French, Hungarian and intermediate level Russian.