Christian Teuschel
Expertise: RIPEstat, RIPE Atlas, Internet measurements, Internet abuse, RIPE Labs, data quality, data science, big data, statistics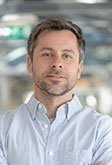 Christian Teuschel joined the RIPE NCC in 2010 and is currently a Senior Technical Analyst in the Research and Development department. He is responsible for the development and operation of RIPEstat, a widely used, web-based interface that provides data on Internet address space and related information for countries and hostnames. He also contributes to RIPE Atlas and other services provided by the RIPE NCC. Christian is co-author of the RIPE Document "Sources of Abuse Contact Information for Abuse Handlers" (ripe-658).

Christian has been working on IT solutions in various fields for more than 15 years. Prior to joining the RIPE NCC, he was responsible for the booking system of a global e-tourism platform in his work life, and researching the aspects of data quality in his academic life.

Christian holds a MSc. degree in computer science from the University of
Linz (Austria) and an MBA from the Amsterdam Business School with the
specialisation in Big Data & Business Analytics.