SEE 3: Sofia, Bulgaria
You're viewing an archived page. It is no longer being updated.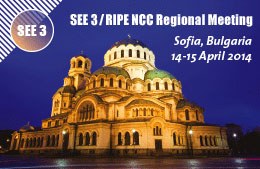 The third South East Europe (SEE 3)/RIPE NCC Regional Meeting took place on 14-15 April 2014 in Sofia, Bulgaria.
The RIPE NCC runs regional meetings throughout its service region. These forums provide an opportunity for network engineers and other technical staff to share knowledge and experiences, and to identify areas for regional cooperation.
The meetings are open to anyone and there is no cost to attend.
Hosts & Sponsors
Hosts
Sponsors