RIPE NCC Regional Meeting Tehran
On 18 November 2014, IRNIC hosted a RIPE NCC Regional Meeting in Tehran, Iran with a total of 270 attendees.
This is the first time such a meeting was held in Iran, and it attracted both RIPE NCC members and the wider Internet community from Iran and the surrounding region.
There was no attendance fee for the meeting.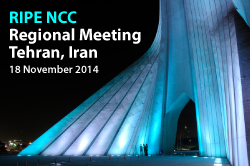 RIPE NCC Regional Meeting 18 November
RIPE NCC Tutorials 19 November
Hosts & Sponsors
Hosts



Platinum Sponsor

Gold Sponsor

Silver Sponsor

Coffee Break Sponsor