Social Event at RIPE NCC Regional Meeting Tbilisi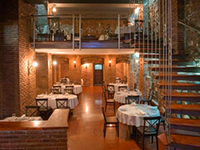 Enjoy excellent traditional Georgian cuisine, drinks, live folk music and dances, catch up with old friends and meet new ones at this authentic restaurant situated in Abanotubani - the place, where the legend of Tbilisi was born.
When: Tuesday 19 May, 19:00–23:30
Where: Restaurant Bread House Satavado
Getting there: 7 Gorgasali St, Tbilisi

Buses will pick us up from Radisson Blu Iveria Hotel between 18:30 and 18:45.
Return buses: one at 22:00 and one at 23:30.
The bus trip to the venue lasts about 20 minutes. If you come from Tbilisi, you can either join us on the buses or arrange your own transportation.