Selection Process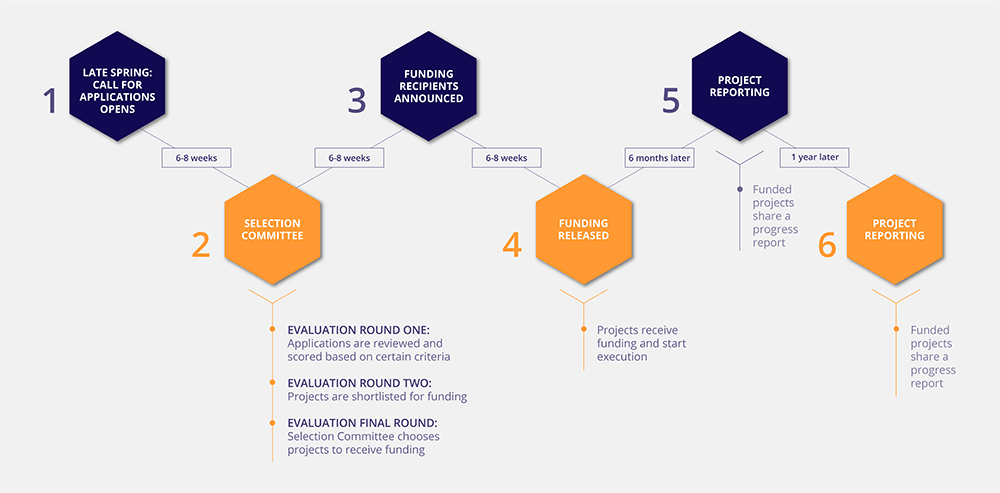 When the application window closes, a selection committee comprised of a RIPE NCC Executive Board Member and volunteers from the RIPE community will review and select funding recipients. A RIPE NCC staff member acts as the secretary and manages the process.
The process of selecting projects for funding is done in three steps.
Step 1: Filtering Projects
The first step is to remove any incomplete projects proposals and any projects that are out of the defined purpose or scope of the RIPE NCC Community Projects Fund:
Funding may be used to purchase equipment, but this cannot be the sole expenditure.
Funding cannot be used for humanitarian aid, donations, or to encourage political reform.
Funding cannot be used to provide scholarships or cover tuition fees.
Funding cannot be used to support any form of commercial activity.
Step 2: Scoring Projects
The selection committee starts the process of scoring each application. This is done with projects being awarded a score between one and five on each of the following points:
Quality plan/approach
Quality team
Diversity team
Innovation
Knowledge sharing/general interest
Impact
After all the applications have been graded, a shortlist of finalists is created by compiling the top ten applications as scored by each selection committee member.
Step 3: Selecting Projects for Funding
The selection committee chooses the winning projects from this shortlist of finalists. The committee meets either in person or on a conference call, with a staff member from the RIPE NCC acting as secretary. If the same project is in all the selection committee members' top ten shortlist, it will be selected as a winner. However, if there are too many projects or if the funding limit is exceeded, then the selection committee discuss and select projects from among these. If there are projects some committee members have scored higher than others, then the committee discusses these projects.