Visiting the RIPE NCC in Amsterdam
Office Address:
RIPE NCC
Singel 258
1016 AB Amsterdam
The Netherlands
Phone: +31 20 535 4444
Fax: +31 20 535 4445
Postal Address:
RIPE NCC
P.O. Box 10096
1001EB Amsterdam
The Netherlands


Our offices are located in central Amsterdam, not far from Dam Square. Parking space is limited in the city centre and is often expensive. We do not have any reserved parking spaces. Amsterdam has a strict policy for parking offenders. Your car will get towed or wheel-clamped if parked without a valid ticket.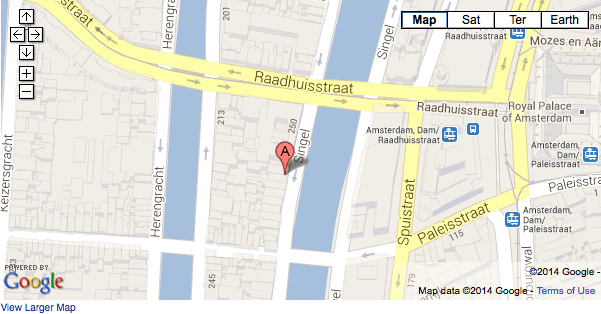 From Schiphol Airport
You can take a train from Amsterdam Schiphol airport to Centraal Station and follow the directions below. The train journey usually takes around twenty minutes and trains run around four times each hour. As an alternative, you can take a taxi from outside the airport arrivals hall and ask them to drop you at our offices on Singel (near the main Post Office). This will take you around thirty minutes, depending on traffic and usually costs at least EUR 40.
From Amsterdam Centraal Station
By tram:
Any tram that leaves from Centraal Station will get you close to our office.
You can buy single fair tickets on the tram, usually in the back of the tram
Lines 1, 2, 5, 13 and 17 stop at Magna Plaza (second or third stop) and lines 4, 9, 16, 20, 24 or 25 will stop at Dam Square (De Dam)
From Dam Square or Magna Plaza it is less than five minutes walking distance to the RIPE NCC
Our office is next to the main post office on the Singel Canal
On Foot:
Leave Centraal Station by the front entrance, you will see the Victoria Hotel in front of you. This stands at the top of a busy street called Damrak.
Walk down Damrak until you reach Dam Square, with the ABN AMRO Bank on your right
Turn right and walk across Dam Square, passing the Nieuwe Kerk and the Royal Palace
Cross the main road and you will be in front of the Magna Plaza shopping Centre
See the map above for further directions