RIPE NCC Report: Law Enforcement Agency Requests 2016
The RIPE NCC receives information requests from Law Enforcement Agencies (LEAs) and tries to facilitate the provision of any required publicly available information. The RIPE NCC does not provide confidential or private information to LEAs without a court order or other legally enforceable order or request under Dutch law.
In 2016, the RIPE NCC received four information requests from LEAs. None of these requests were accompanied by a Dutch court order; two were accompanied by non-Dutch subpoenas. Overall, the number of requests decreased by 50 percent compared to 2015. LEAs appear to understand the RIPE NCC's role as a Regional Internet Registry, the information it possesses and what it will and will not share. LEAs also seem to acknowledge the RIPE NCC's procedures and will try to confirm with the RIPE NCC before making an official request.
The RIPE NCC received the following requests in 2016:
For non-public information

One request asking if the RIPE NCC could share non-public information about organisations responsible for Internet number resources. The RIPE NCC explained that non-public information could only be provided with a Dutch court order.

For information the RIPE NCC does not have

Two requests for the identification of Internet users at a particular moment in time. The RIPE NCC provided information on its role as an RIR and explained how to use publicly available information in the RIPE Database to find the party responsible for a particular resource.
A request for information regarding a domain name. In response, the RIPE NCC provided information about its role as an RIR.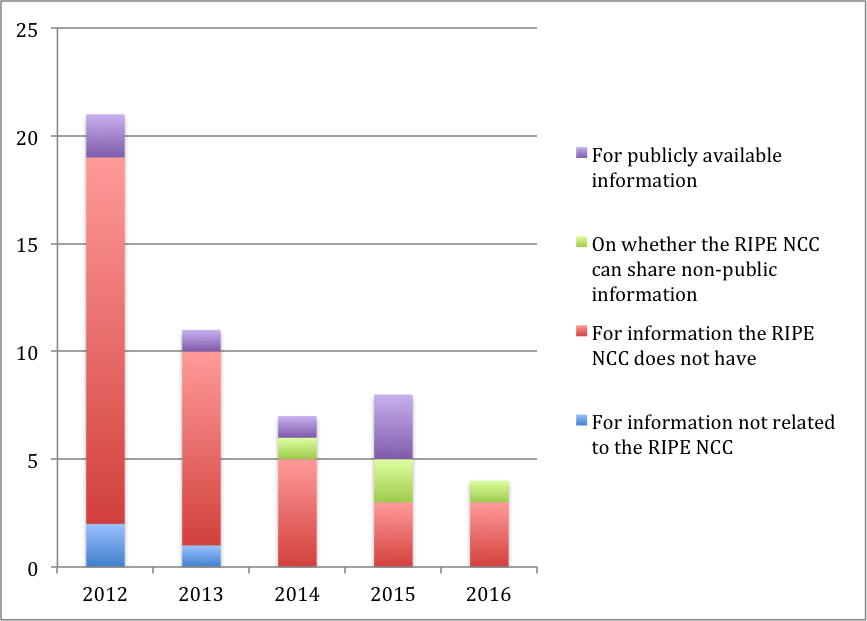 | | | | | | |
| --- | --- | --- | --- | --- | --- |
| LEA Request | 2012 | 2013 | 2014 | 2015 | 2016 |
| For information the RIPE NCC does not have | 17 | 9 | 5 | 3 | 3 |
| On whether the RIPE NCC can share non-public information | 0 | 0 | 1 | 2 | 1 |
| For publicly available information | 2 | 1 | 1 | 3 | 0 |
| For information not related to the RIPE NCC | 2 | 1 | 0 | 0 | 0 |
| Total | 21 | 11 | 7 | 8 | 4 |
Number of LEA Requests by Country
| | | | | | |
| --- | --- | --- | --- | --- | --- |
| Country of Origin | 2012 | 2013 | 2014 | 2015 | 2016 |
| United States of America | 8 | 9 | 4 | 4 | 1 |
| United Kingdom | 2 | 1 | 1 | - | - |
| France | 1 | - | 1 | - | 2 |
| Malta | - | - | 1 | - | - |
| Germany | 4 | 1 | - | - | - |
| Spain | 1 | - | - | 1 | - |
| Sweden | - | - | - | 1 | - |
| Australia | - | - | - | 1 | 1 |
| Belgium | - | - | - | 1 | - |
| India | 2 | - | - | - | - |
| Norway | 1 | - | - | - | - |
| Netherlands | 1 | - | - | - | - |
| Poland | 1 | - | - | - | - |