RIPE Chair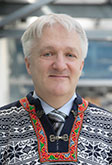 Hans Petter Holen has been actively involved in RIPE and the Internet industry for over 20 years. His extensive and long-standing first-hand knowledge of global IP address policy creation was developed in the RIPE Address Policy Working Group (formerly known as the Local Internet Registry Working Group), of which he was Chair.
Formerly a member of the NRO Number Council, Hans Petter has also been part of ICANN's ASO Address Council since its formation in 1999 until 2013 where he spent 10 years as Chair and Co Chair.
Hans Petter graduated from The University of Oslo (1988) with a Bachelor's Degree in Computer Science, and continued with further studies there, while working at the University administering the Norwegian EuNet node. He was part of the founders of Oslonett AS, one of Norway's first commercial ISPs, and has been working for various other LIRs. As IT Director at Visma for the last 9 years, he exercises his extensive knowledge of the design, implementation and operation of Internet services and networks.
Hans Petter Holen was appointed RIPE Chair at RIPE 68 on 16 May 2014.