RIPE Meeting Trusted Contacts
For a quarter of a century, the RIPE Meetings have enjoyed an environment of respectful and encouraging behaviour so that each RIPE Meeting participant feels welcome and equal.
If you feel that you have been subjected to behaviour contrary to the environment that the RIPE Meetings attempt to achieve, or if you have any other concerns, please contact one of our specially trained Trusted Contacts. They will discuss and help resolve your concerns in the strictest of confidence.
You can contact a Trusted Contact by emailing trustedcontacts _at_ ripe _dot_ net.
Rob Evans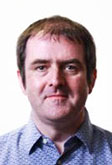 Vesna Manojlovic
Saloumeh Ghasemi
Lia Hestina
Read the RIPE Code of Conduct.