RIPE NCC Open House: Central Asia Internet Country Report
You're viewing an archived page. It is no longer being updated.
We've published an Internet Country Report on Central Asia and we invite you to discuss the report's finding with us during a special 90-minute online session.
Wednesday, 14 October from 08:00-09:30 UTC | 10:00-11:30 CEST | 14:00-15:30 UTC+6
Please note that this session will take place in Russian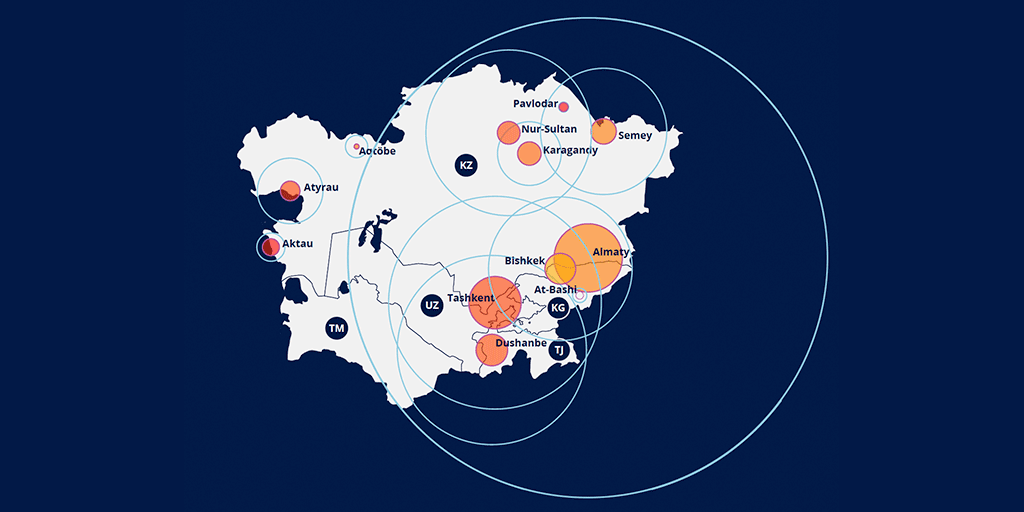 The RIPE NCC Internet Country Report: Central Asia takes stock of the current IPv4 and IPv6 resource holdings in the Central Asia region, looks at the history of development of the Internet industry, and assesses its opportunity for future growth. It also examines the region's access to the global Domain Name System (DNS), looks at how traffic is exchanged within the region, and identifies the different paths and operators providing access from the rest of the world.
This report is the latest in a series of reports we've published on different countries and regions to help inform local technical communities and policymakers about issues relevant to their particular region.
The RIPE NCC Open House session takes place on 14 October from 14:00-15:30 (UTC+6). We'll present some highlights from the report and use these as a starting point for an open discussion among all participants about the issues, challenges and opportunities facing the technical community in Central Asia, such as IPv6 deployment, peering and IXPs, measurement tools that can help in your daily operations, and whatever other topics you want to bring to the table.
*** Please note that this session will take place in Russian ***
Speakers
Maxim Burtikov, External Relations Officer (Eastern Europe and Central Asia), RIPE NCC
Vahan Hovsepyan, External Relations Officer (Central Asia and Caucasus), RIPE NCC
Alex Semenyaka, External Relations Officer (Eastern Europe and Central Asia), RIPE NCC