Nominees
Nominations
Jordi Palet Martinez
Name of nominee

Jordi Palet Martinez
Nominee's country of residence

Spain
Nominee's organisation or employer

The IPv6 Company
Nominee's email address

jordi.palet _at_ theipv6company _dot_ com
Motivation for nomination

I've been part of this community for 20+ years and very actively participating in the PDP. I think I've the required knowledge and experience to further contribute to the community from the NRO NC.
Name of nominating individual

Self
Nominator's organisation or employer

The IPv6 Company
Biography
Jordi Palet Martínez has been working in computers, networking, and telecommunications business over the past 40 years. His experience includes programming in several languages, OS porting, electronic and microcomputer circuit design, consultancy and network design and implementation, among others. He has been involved with technical, marketing and product management in several companies, and is currently working as the CEO/CTO at "The IPv6 Company", Madrid.
He frequently authors articles, white papers, and presentations about high-end technologies, including eight free books on IPv6. He is involved in many forums such as: ISOC, IETF, ICANN, RIPE NCC, APNIC, AfriNIC, LACNIC, ARIN, the European Commission IPv6 Task Force and many other regional and national IPv6 Task Forces and related initiatives. Since 2001, he has attended all the IETF meetings and contributed to the standardisation process authoring and contributing to numerous documents, mainly related to IPv6. He has also been an IETF Sergeant-at-arms for over 12 years. Over the past 20 years, he has been involved in the policy making process and meetings of all five RIRs, and has (co-) authored over 100 proposals, with the majority having reached consensus.
Jordi has volunteered his time to assist all the RIRs in training activities, mainly related to IPv6, which started in Africa and continued in the rest of the regions. He was the driving force behind the creation of the IPv6 Task Forces in many countries in Europe, Latin America and the Caribbean, and other regions, helping increase the IPv6 knowledge and impacting deployment. Some of his work includes:
Maintaining "The IPv6 Portal", a website for IPv6 news and information. Some of its relevant work on this field is IPv6day (for the 6bone phaseout, which he chaired at IETF), and in Spanish 6SOS.
Working in the development, promotion and deployment of IPv6, including the IPv6 Forum, the IPv6 Logo Committee, European IPv6 Task Force, Spanish IPv6 Task Force (among others in many countries), IPv6 Task Force Steering Committee, 6POWER, 6QM, Eurov6, IPv6 Cluster, ENABLE, RiNG, 6DEPLOY, GEN6 and the Eureka project PlaNetS. He was the designer of Euro6IX and its Scientific Project Coordinator.
Participation in the OCCAID project to provide free (time-limited) IPv6 transit to ISPs when their existing upstream providers don't support IPv6 transit yet (mainly in Africa, LAC and AP).
Developing customer tailored applications and devices in IoT and energy solutions as a result of his IPv6 work.
Providing IPv6 professional training and consultancy services, to all those kinds of customers, including the LACNIC IPv6 Tour, which was carried out in all the Latino American and several Caribbean countries and trainings for AfriNIC. In total he has already trained over 75,000 engineers across more than 140 countries.
Responsible for the strategic plans for the deployment of IPv6 in governments of several countries such as Spain, Ecuador, and Colombia among others.
Engagement with IPv6 commercial customers/projects for the last 20 years, including ISPs, government networks, universities, corporate networks, data center, SMEs networks and regulators.
He is also working in other areas, including new security architecture for Internet (Distributed Security), Mobility beyond MIPv6, Routing in Next Generation, and Power Line Communications (PLC/BPL/PLT).
Motivation
I've been part of this community for 20+ years and very actively participating in the PDP. I think I've the required knowledge and experience to further contribute to the community from the NRO NC.
---
Andrea Cima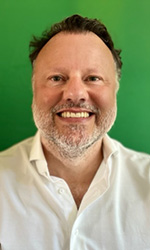 Name of nominee

Andrea Cima
Nominee's country of residence
The Netherlands
Nominee's organisation or employer

Packet Clearing House
Nominee's email address

andrea _at_ pch _dot_ net
Motivation for nomination

Andrea has been working with the RIPE and the wider Internet community for about 20 years. His experience heading Registry Services and Policy Development at the RIPE NCC have given him in-depth knowledge of IP address policy and policy development. Furthermore, as a former chair and member of the RIR Registry Services Coordination Group, and in his current role at PCH, where he works with network operators globally, he has gained the experience, expertise and perspective needed to expertly represent the RIPE community.
Name of nominating individual

Filiz Yilmaz
Nominator's organisation or employer

Equinix
Biography
Andrea Cima is the COO of Packeting Clearing House (PCH), an international not-for-profit organisation providing operational support and security to critical Internet infrastructure globally.

Before joining PCH, Andrea was Head of Operations for the British Standards Institution Benelux and Nordics, but the core of his career has been with the RIPE NCC, where he worked for over 18 years. At the RIPE NCC, Andrea started as an IP Resource Analyst and Trainer, then managed the Customer Services team, and finally led the Registry Services and Policy Development team.

During his years at the RIPE NCC, Andrea has enjoyed working very closely together with the RIPE community, RIPE NCC members, the other RIRs and ICANN. Some of his proudest achievements have been leading the delicate process related to the exhaustion of the IPv4 regular pool, ensuring transparency and fairness; and contributing to more than 25 RIPE community policy changes, either by reporting the problems that led to the change, or by being responsible for managing the new policy impact analysis and complete implementation.

Andrea holds a BBA and MBA, lives in Amsterdam, the Netherlands, together with his partner and his 8 year old son.
Motivation
The NRO NC has an important mandate, ensuring compliance of the Global Policy Development Process and providing advice to the ICANN Board on strategic Internet number resource allocation policy. If entrusted by you with this role, I will represent the RIPE community professionally and with dedication.

While working at the RIPE NCC, I have with great pleasure supported the Policy Development Process, by being a connector between the RIPE community and the RIRs. In this role, I have gained a strong understanding not only of the processes but also the importance of dialogue and consensus. I believe these skills will allow me to contribute positively to the NRO NC, supporting global policy in close alignment with NRO colleagues, and reliably communicating RIPE Internet Number Policy matters to the ICANN board.
---
Constanze Bürger
Name of nominee

Constanze Bürger
Nominee's country of residence
Germany
Nominee's organisation or employer

German Federal Ministry of the Interior and Community
Nominee's email address

cobuerger _at_ gmail _dot_ com
Motivation for nomination

I would like to nominate Constanze Bürger for the ASO. She has been an active member of the RIPE community for many years, is constructive and calm, and brings a useful government view to the issues.
Name of nominating individual

Randy Bush
Nominator's organisation or employer

IIJ Research and Arrcus
Biography
Constanze Bürger is an intermediary between technical and political worlds. Her deep knowledge of technology, as well as its impact and potential for politics and society allows her to understand and to be understood by both worlds. She led Germany as a pioneer with a 'Government-LIR' to the membership of the RIPE NCC in 2009. For her commitment to a free and open Internet in the introduction of IPv6 in the German public administration, Constanze was awarded the "Jim Bound IPv6 Award" by the IPv6 World council.
At numerous UN IGF meetings, she successfully promoted political support for the technical requirements to protect an open and resilient Internet. Through these numerous activities in multistakeholder environments, she gained in-depth experience in organising and moderating national and international cooperation.
Constanze Bürger graduated in computer science (diploma) in 1999 and has been working as an executive officer with the German Federal Ministry of the Interior since 2001.
Motivation
I attended my first RIPE meeting in Berlin as an absolute newbie. The structures and roles common for a ministry and usual for me until then were suddenly confronted with different rules and behaviour of the RIPE community. A steep learning curve began, for me, and for the RIPE NCC colleagues because a government LIR was new for the community too.
This multi-stakeholder exchange, made me realise how open, free, and grassroots democratic the governance of the Internet was and is, especially in relation to the RIPE region.
This type of Internet governance is reflected in policies, policy development processes and actions of the RIPE community. It makes the Internet resilient against excessive political influence, prevents the dominance of individual stakeholders and the risk of a "splinternet".
To protect and preserve an open, free, multi-stakeholder driven and sustainable Internet is my deepest inner conviction. This is regularly reflected in my presentations and contributions in the past two decades, at RIPE meetings, UN or national IGF meetings, events of the EU Commission, at EU member states, as in my daily work.
In my current professional area of responsibility, I deal with the operation of the LIR de.government, the design of resilient and secure network infrastructures based on IPv6.
I am also concerned with the representation of open and democratic values in international organisations, as well as in open and closed standardisation bodies. The design of the Internet is a technically complex process that needs to be moderated and guided with sensitivity. It is one of my goals to highlight the potential of technical possibilities and make them usable for politics and society. I would like to clearly emphasise the appreciation of this work, which is an ongoing NRO task.
Therefore, my candidacy for the seat on the ICANN ASO AC would be a meaningful continuation of my activities to achieve this goal. I will use my commitment, knowledge, and network to work as an ambassador for RIPE and the NRO at ICANN.
---
Hervé Clément
Name of nominee

Hervé Clément
Nominee's country of residence

France
Nominee's organisation or employer

Orange
Nominee's email address

herve.clement _at_ orange _dot_ com
Motivation for nomination

Hervé has been an active, valuable, and conscientious, member of the ASO AC / NRO NC for the terms he has served to date. He is currently the chair of the ASO AC / NRO NC. As the head of Naming, Addressing, and Numbering at Orange, Hervé has an excellent grasp of IP policy, and a solid understanding of the ICANN context in which the ASO AC operates. He contributes constructively within the ASO AC / NRO NC, and represents the RIPE community impeccably. I warmly recommend Hervé for another term at the ASO AC / NRO NC.
Name of nominating individual

Nurani Nimpuno
Nominator's organisation or employer

LINX
Biography
Hervé Clément is a French citizen, based in Paris. After completing statistical studies, he worked within the Research & Development Division of Orange, formerly France Telecom, for ten years as network dimensioning and QoS Project Manager before joining the Numbering, Addressing and Naming (NAN) Department in 2010.
Now as the head of this department, Hervé has the functional responsibility of the former so-called "extra large" fr.telecom LIR. He, therefore, has the operational experience of the management of IP resources and ASN at large scale. Furthermore, Hervé coordinates the technical policy strategy at group level on addressing issues expressed in international structures or bodies (RIPE, RIPE NCC and AfriNIC) and supports the LIRs within Orange (Europe, Middle East and Africa) regarding inter alia their relationship with their respective RIR.
Another mission of the Orange NAN Department is the contribution to the Internet Naming strategy. He closely follows the current technical ICANN issues via, for example, the ICANN Internet Service Providers and Connectivity Providers (ISPCP) Constituency of which he is a member.
Hervé is vice-chair of the European Telecommunications Network Operators' Association (ETNO) Naming, Addressing and Numbering Issues (NANI) Working Group. In close relationship with the chair of the WG, he shares European information regarding Naming and Addressing current topics and drives relevant discussions within that group.
Having been selected Chair of the ASO AC in 2023, Hervé has helped the Council to achieve its objective to update the dedicated Operational Procedures.
Motivation
The experience I've gained from being a member, then vice-chair and finally chair of the ASO AC, from my point of view, can be beneficial to the Council during the next three years regarding the current Internet Governance challenges.
The continuation of the operating procedures updates and conducting the 2024 ICANN Board of Directors Seat 9 Election will inter alia be the first priorities.
I'm still motivated to offer my time to support the community via the NRO NC.