RIPE 64 Meeting - Registration Open
You're viewing an archived page. It is no longer being updated.
Registration is now open for the RIPE 64 Meeting in Ljubljana.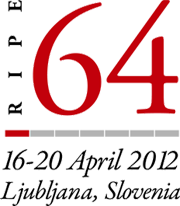 Online registration for the RIPE 64 Meeting is now open.

RIPE 64 takes place at the Grand Union Hotel in Ljubljana from 16 — 20 April 2012.

Regular updates, including information on the meeting programme, venue and social events, will be posted on the RIPE 64 website.

We look forward to seeing you there.