RIPE NCC Roundtable Meeting, Brussels, February 2012
The RIPE NCC Roundtable Meeting for Governments and Regulator took place on Tuesday, 21 February 2012 at the Le Plaza Hotel Brussels. There were 55 attendees from 20 different countries.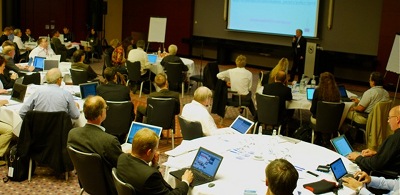 RIPE NCC Roundtable Meetings are invitation-only events. If you would like to attend or you have any other questions regarding the meeting, please send an email to roundtable _at_ ripe _dot_ net.
Venue
Hotel Le Plaza
Boulevard Adolphe Max 118-126
B-1000 Brussels
Tel: +32 2 278 01 00
Fax: +32 2 278 01 01