Candidate Biographies
Dr. Falk von Bornstaedt
Background
Falk has 25 years of experience in the telecommunications industry, with a strong focus on the internet. Currently he is Head of Group Peering and IP Trading in the business unit International Carrier Sales and Solutions (ICSS), part of the board area for Europe and Technology.
Before this he was head of product management, IP-Transit, Peering and CDN within the Business Unit Internet and Content. In this function he led the Deutsche Telekom Network into a global Tier1 status and established the IP-transit business.
Previous functions and achievements
Vice President IP&Carrier Solutions at T-Systems
Initiated the IP MPLS VPN product line as head of product management
Initiated and introduced the IPX product
Assistant to the CEO of Deutsche Telekom, responsible for international affairs
Head of the supervisory board office of Deutsche Telekom
Project head at Fraunhofer Research Institute in Sankt Augustin
In 2004, Falk started teaching as a visiting professor for Internet Economics at Freiburg University, and since 2011 he has been teaching at the Technical University in Berlin. He holds diplomas in economics from the universities of Bonn and Paris, and a Ph.D. in economics from Cologne University. He published several books, e.g. internet economics (Internetwirtschaft) in 2014.
Falk is an active member of the internet community, frequently at the EU and Global Peering Forum, not so frequent at IETF. In 2014, Falk was elected for the DE-CIX customer advisory board.
Motivation
I will never forget when Gary Feldman sang "the day the routers died" at the RIPE meeting in 2007. That energized the community including myself to make it happen within Deutsche Telekom. RIPE is a perfect platform to help shape the future of the internet. For the last 15 years I have attended almost all RIPE meetings, my favorite place for networking and inspiration.
I would like to use my experience to serve the Internet community, with a focus on
lower the membership fees if possible without lowering the service level
further develop RIPE Atlas, which has become a respected tool
continue the dialogue with the regulators to avoid unnecessary regulations
promote the dialogue on a global basis
enhance the dialogue with the academic sector
To sum it up, I want to strengthen the important role of RIPE in Europe and on a global basis. My economic and management background will be helpful within the board.
Linkedin: https://www.linkedin.com/in/bornstaedt/
Dmitry Burkov
Background
Dmitry Burkov graduated from the Leningrad Electrotechnical Institute in 1983. He currently serves as Chairman of the Board of Foundation for Assistance for Internet Technologies and Infrastructure Development (FAITID) which is a registry for gTLDs .MOSCOW/.МОСКВА.
Since the 1980s, he has been at the forefront of the development of the Internet in Russia and the RIPE NCC service region.
Early in his career, Dmitry worked at the Russian Academy of Sciences. He was involved in building the first packet-switched networks in the USSR. He took part in porting UNIX to Soviet-made computers and received a government award for his contribution in this area. Dmitry co-founded the first ISPs in Russia (Demos, Moscow, 1988 and Rcom Ltd, St. Petersburg, 1991) and was responsible for the first national-level ISP in Russia. He served on the Board of Directors of JSC Relcom, and he was responsible for international cooperation, participating in RIPE, EUnet, CIX and other global forums.
In the early 1990s, Dmitry served on the Executive Board of the Soviet UNIX Users Group, driving the development and success of the Relcom/EUnet network group. In the middle of 90s he was a key participant in the creation of the first Russian Internet Exchange, MSK-IX. He also assisted the development of TLD .RU and was the first Chairman of Council of ccTLD .RU. He actively participated on an international level on behalf of the Coordination Centre for many years.
From early in his career, Dmitry Burkov has been a visionary and a leader in Internet governance affairs on behalf of the Russian Internet community, the RIPE community and the RIPE NCC. He has consistently defended the industry self-regulation approach to Internet operations. He participated in international coordination on both the regional and national levels. Dmitry has decades of high-level technical experience that he brings to all aspects of his work on behalf of the RIPE NCC membership as a whole and at the regional level.
In 2006, Dmitry became a member of the RIPE NCC Executive Board. His extensive work and experience with ICANN meant he was ideally placed to act as the Executive Board ICANN Liaison. In the last eight years, he is Trusted Community Representative and serves a role as Crypto Officer for the West Coast Facility in the DNS Root key management process (https://www.iana.org/dnssec/tcrs).
He represents the interests of the RIPE NCC's membership at the Internet Governance Forum (IGF) events, and he has played a key role in consulting with governments and regulators at events such as RIPE NCC Roundtable Meetings to achieve the best outcomes for the RIPE NCC membership.
In addition to representing the interests of the RIPE NCC membership on the global scene, Dmitry has carried out the vital role of communicating the unique needs of the regional Internet community to the rest of the RIPE NCC membership.
As part of his work in highlighting the needs and concerns of the regional Internet community, Dmitry was instrumental in organising the first RIPE NCC Regional Meetings in Russia. He ensured that not only did RIPE NCC members from the region have the opportunity to come together for the good of the Internet, but that they were heard by governments, regulators and members in the rest of the RIPE NCC service region.
Dmitry has built on this work to initiate and lead the development of the Eurasian Network Operators' Group (ENOG) conferences, transforming the RIPE NCC Regional Meetings into a greater forum for the technical community in Russia and beyond.
Motivation
As the RIPE NCC has always been at the forefront of technological and organizational advancement and demonstrated prowess in taking on uncharted territories, I believe that we should promote our primary role of a strong and healthy Internet registry not only in deployment and management of IP resources, but in development and fostering our ties with a broader community.
To that end, as some parts of RIPE NCC's region have remained out of our immediate reach, I will be at pains to ensure their greater engagement in the RIPE processes and to raise the RIPE community's awareness of, and ensure their contribution to, solving the challenges the regional technical communities are facing. With a vast network of contacts across most of Eurasia and beyond, I trust I could be instrumental in that regard.
Another strategic objective should be Internet governance issues post-IANA transition. With interest in the Internet's related public policy development being on the rise and in view of significant changes in the Internet governance landscape, the RIPE NCC should promote the vision and ideology of safe and stable Internet and to do its utmost to preclude its fragmentation. I believe that my record of dealing with national governments can help the RIPE NCC to stay on track and further solidify its stance in a dialogue with governments.
With the inevitable generational challenge looming, we should think of best ways to preserve and promote our legacy, and I hope that if elected, I would be able to continue our work on providing greater opportunities to our members to more proactively engage in RIPE's activities. As well, we should look for talented people and vibrant organizations across our region and help them excel in what they do in order to nurture a new generation of crucial players to guard and promote the genuine values we have long stood by. As quite a number of them should come from previously untapped regions, my humble contribution would lie primarily in scouting and helping such talents and organizations across the former CIS area, as well as in Southern and Eastern Europe.
I sincerely hope that in my capacity as a member of the RIPE NCC Executive Board I still can make a difference and my background and expertise will help promote RIPE NCC members' interests.
I should be truly honored and thankful if you support me for another term on the RIPE NCC's Executive Board.
Dmitry Kohmanyuk
Biography
Dmitry Kohmanyuk graduated in 1992 from the Cybernetics Department of Kiev Taras Shevchenko University in Kiev (then Soviet Union, presently Ukraine), receiving a Masters Degree with honors.
He now resides in Kyiv and works as Director for Public Relations of Hostmaster Ltd, the registry for the .UA domain. He actively participates in the Internet community, attending local, regional and international forums, including RIPE, CENTR, ICANN, IGF, IETF and other meetings. Hostmaster Ltd (hostmaster.ua) is a RIPE NCC member and was hosting the RIPE NCC Regional Meeting/ENOG in Odessa in May 2012 and October 2015.
Dmitry speaks Ukrainian, Russian, and English (and knows a small set of Dutch words just in case).
Background
Dmitry has direct operational experience with networked Unix systems and router equipment, co-founding and running one of first Ukrainian ISPs back in 1991 (Communication Systems). His work included several technology start-up companies in the United States in the role of systems administrator, developer support and operations. He can write code and shell scripts, was a co-author of RFC 2319 and participated in the Ukrainian Unix Users Group.
He has been directly involved with Ukrainian ccTLD registration and operation since 1996, in both non-commerical and commerical forms, and continuously represented ccTLD with IANA. He sits on the board of Hostmaster. Over the recent years, the local policy development process has restarted, community service has improved, IDNs have launched and operational migration to IPv6 was completed, as well as DNSSEC launch in March 2012.
Non-profit work includes IPv6 as well as DNSSEC promotion in the region, participating in UA-IX as a member of the technical committee and speaking with press to communicate about Internet technology, security and privacy issues. Two IGF-UA forums in Ukraine in 2010 and 2011 were organised with support from Dmitry and Hostmaster.
Qualifications
As a person with a diverse background and a network of personal connections in CIS, Europe and North America, Dmitry would work to help fulfill the interests of LIR registries using RIPE NCC services, both operationally and strategically.
As somebody with operational, project management and public relations experience, Dmitry can work in several functions to serve the RIPE NCC mission globally.
Motivation
"We should take successful years of RIPE operation as an example and optimise what processes and services we have, while adding more local outreach in less-developed communities. I would be happy to work with the Board on making us leaner, smarter and quicker to make changes without compromising the consensus-building framework we have. Being an online service does not preclude us from having more off-line events. ENOG is good step in this direction, as well as other regional meetings.
In my opinion, it is in the best interest of members of the RIPE NCC to let new members into the board. Therefore, I would not consider running for re-election more than once. My employer would allow me to spend my time on public interest activities. I look forward to being part of this team, to contribute and to learn from the experience. Being on the Executive Board is just one more way to help the community."
dk at hostmaster.ua
Voice: +380503814604
http://www.linkedin.com/in/kohmanyuk
https://twitter.com/#!/dk379
Payam Poursaied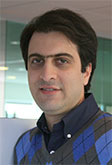 Payam Poursaied holds a Master of Science Degree in Industrial Engineering and a dual-major bachelors degree in Computer and Industrial Engineering from Sharif University of Technology, the most reputable Engineering school in Iran. Studying two majors simultaneously is a privilege granted to the top three students in each department, and Payam was one of those selected.
He is Chief Quality officer of Shatel, the largest privately-held ISP in Iran with more than 1.2M subscribers and over 2,500 employees. He also serves in the capacity of Senior Technical Advisor to the Board of Directors.
Payam started his first job when he was 14, at his father's company to take care of accounting software and computer-related tasks. This gave him the opportunity of experiencing the business world and its challenges very early on. Later while attending university, he ventured more into the areas of Business, Economy, Optimization, and Accounting by attending those classes at his university.
Payam started his IT Carrier back in 1999 as a Perl programmer. Given his hands-on network operations experience, the university assigned Payam as a Computer Site (lab) supervisor.
In 2002, Payam joined Shatel group as Technical Manager when Shatel was just a small startup ISP of size 10, offering innovative converged dialup and VoIP access. Since then he has served in key technical and managerial roles. Payam's managerial background is backed by his studies in Industrial Engineering as well as other international certificates and personal research. He successfully founded and led the Quality Management (QM) department which reported directly to the CEO and Chairman. During these years, Shatel's headcount has reached 2,500+ countrywide. Payam directly leads a team of 40+ at QM Department while overseeing other departments with full any action/vector authority granted by the Board.
Under the watchful eyes of Payam, Shatel's range of services expanded beyond DSL and into areas such as MVNO (https://shatelmobile.ir), VoD (https://namava.ir), Fixed-LTE, Fixed residential voice services as well as carrier grade voice operations.
The majority of Payam's professional activities started while he was still studying at the university. In addition to that, Payam highly participated in community-related activities. From the very first day of attending his university, he was appointed as one of the computer site administrators and was responsible for IT services which included providing technical assistance to other students and professors. Later while he was still an undergraduate student, he became an instructor for the first-year students and held that position for more than eight years with an option to become full time.
Payam also had a chance to be part of the Economy of Cyber Security team at TUDelft as a researcher. Although this experience did not last long, it was an insightful opportunity for him in the area of Cyber Security, large-scale measurement, and the economic factors influencing Cyber Security.
Qualifications:
"The more you know, the more you know that you don't know." and I believe in it. So, what I'm saying is just to demonstrate my experience in different technical and managerial areas and I'm pretty sure that there are folks in the community whose knowledge and experience would beat mine.
Linux lover, trainer, and holder of RHCE
Network enthusiastic with deep knowledge in networking
MikroTik Certified Trainer
Hands-on Perl and PHP programming + SQL
Sharp problem solver
Auditor of Quality Management System ISO 9001
Experience in Organizational Excellency models
Experience in adopting and adapting ITIL
Motivation:
I believe in an old Persian saying (loosely translated): Knowledge is to be shared and spread by the one that has it, and in my life, I have always tried to stick to this belief by spreading what I've learned.
Those who know me will tell you that I see problems as opportunities; an opportunity to learn, teach or improve a process. Should I discover an issue in the community I live/work/deal with, I cannot remain indifferent and will take action, even if it means rolling up my sleeves and start writing code. This belief of mine along with passion and persuasions I received during MENOG 18, has motivated me more to devote part of my time in making the community stronger.
I am a frequent traveler, which exposes me to different cultures and makes me better appreciate diversity. There are many academic studies which claim diversity has been one of the important factors in the leading communities' success. And this is the key point I would like to focus on if I get the privilege of becoming one of the board members of RIPE NCC.
The RIPE NCC service region spans across the Middle-East and Europe, and we should consider the differences in financial, cultural and IT governance between the Middle East and Europe. Operational optimization and challenges that are faced on a daily basis in this region can best be explained by those who have experienced it first hand, and I believe given my key roles in the start and expansion of Shatel from a 10-man company to over 2,500 employees makes me a great candidate for such.
I would like to use this opportunity not only to represent part of the region in the RIPE NCC community but also focus on the below matters:
Ensuring that RIPE NCC procedures are fair for all members, which will help with members' morals. It includes but is not limited to review of Fees, Training, Meetings, Resources, Policies, etc.
Improving RIPE NCC's reputation among all RIRs. From my point of view, RIPE NCC is ahead of other RIRs from many aspects including innovation, development, technologies and, in short, making the Internet a better place. This should continue while considering the interests of all members.
Piotr Strzyżewski
Background
Piotr Strzyżewski is a Manager of the Security and Network Operations Department at the Silesian University of Technology, an active member of the PIONIER Consortium community (Polish NREN) and a member of Abuse-Forum, an informal community of Anti-Abuse teams in Poland.
Piotr has been co-chair of RIPE Database Working Group and member of the RIPE Anti-Abuse Contact Management Task Force and the RIPE NCC Charging Scheme Task Force. The latter has given valuable input into the process of creating crucial documents such as the Charging Scheme and Activity Plan.
In the past he was a pioneer in deployment of the eduroam project in Poland (one of the biggest world-wide roaming access services made for research and education users) and one of the core members of the Silesian Linux Users Group in 1990s. As an enthusiast of "open knowledge" he gives lectures on Linux, networks and security topics.
His experience covers
Security
Projects deployment / software deployment
Budgeting
Public tenders
Legal advice
Policy-making
GDPR implementation
Anti abuse coordination
Academic and private sector cooperation
Piotr holds an MSc in Computer Science and is a Board Member, Development Coordinator of Mensa Poland society.
Work for RIPE and the RIPE NCC
Member of the Anti-Abuse Contact Management Task Force
Member of the RIPE NCC Charging Scheme Task Force
Former Co-chair of the RIPE Database Working Group
Managing LEGACY IP address space
Attending RIPE Meetings for more than 10 years
Presentations on policy proposals and implementation details
Motivation
RIPE NCC is a great organization, very crucial and valuable for the internet community both in the region and in the world. We bring new ideas and solutions. I am truly proud of being a part of this community and I want to serve it even better.
We still have a lot to do. There are many underrepresented countries both at the RIPE NCC GM and RIPE Meetings from various part of our service region. I am planning to visit these areas, liaise with their representatives, recognise needs and problems of smaller LIRs and bring them to the Executive Board's attention. Diversity is a key to further development and it will not happen without support for smaller and not-so-wealthy countries.
As a person from such a country I can perfectly understand what kind of issues smaller LIRs face day-to-day – from bureaucracy, through long decisive processes, compliance, outdated hardware and software, to politics – and all this with insufficient funds, often up to 10 times lower than in Western countries.
One does not need to represent a well-known and rich organization to be active and meaningful. I have much to offer, not only fresh blood and a new vision. I have a very strong security background and orientation and it gives me a different perspective. Nowadays, in the Internet of Things world, GDPR regulations and rapidly increasing usage of cloud services and apps, security is of a greater importance than ever.
My desire to contribute more and more has motivated me to apply my outgoing personality, enthusiasm, knowledge, experience and skills to the Board position.
LinkedIn profile: https://www.linkedin.com/in/piotrstrzyzewski
János Zsakó
Biography
Diploma in Computer Science Engineering, Technical University, Cluj, Romania, 1986.
Certified Information System Auditor (CISA) by Information System Audit and Control Association (ISACA), Illinois, USA, 1999-2012, presently not active.
Master Diploma in Management (Maîtrise en Management des Organisations en Contexte International), Université de Picardie, Amiens, France, 2000
Certified Information Security Manager (CISM) by Information System Audit and Control Association (ISACA), Illinois, USA, 2004-2012, presently not active.
Master Diploma in Economics at College of Finance and Accountancy of Budapest Business School, 2008.
Between 2011 and 2014, János was Development Director, and since October 2014 he is the Managing Director of ISZT Nonprofit Kft., the .hu ccTLD operator. ISZT is an LIR with five-star IPv6 RIPEness, with 100% content deployment (http://ripeness.ripe.net/5star/HU.html).
János contributed to the DNSSEC deployment and to elaborating a hardened and reliable environment for authoritative secondaries for .hu.
Between 2005 and 2011 as the Technology Director of 3C Kft, Budapest, Hungary he managed to acquire a vast experience in satellite communications, network security, Internet-related services like DNS, mail and routing. 3C offered Internet access services over ADSL countrywide and over microwave in the Budapest area.
Between 1998 and 2005, János was the Technical Director at BankNet. He joined this data communication service provider in 1992. BankNet was a pioneer in offering commercial Internet services in Hungary from 1994 by taking transit services from Pipex UK.
János attended most of the RIPE meetings since RIPE 21, Rome. He was a member of the editorial committee of the RIPE address policy document ripe-136. As a member of the Database Security Task Force, he summarized the results in RFC2726. Later, he was a member of the RIPE Data Protection Task Force, and a member of the ad hoc group for DNS WG 67.1. He gave a presentation on IPv6 penetration in Hungary at RIPE 68.
In 2017, János acted as host for RIPE 74 in Budapest. As part of the host's duties, János took part in the Program Committee's work, helped the RIPE NCC with the technical setup of the meeting, and gave a short presentation at the opening plenary.
János was on the RIPE NCC Executive Board, acting as Treasurer between 2001 and 2010. He contributed to the safeguarding of the assets of the RIPE NCC during the financial crisis period and provided transparency of the financial situation. He acted as adviser to the Executive Board of the RIPE NCC between 2010 and 2015, and he is again a member of the Executive Board since 2015.
János played an active role in the formation of the Council of Hungarian Internet Providers (CHIP). He assumed several roles in CHIP during the years: Chairman of Registration Committee (1998), Vice-President (1999), Chairman of Network Security Committee (2001-2016), member of the Board (2015), member of the Supervisory Board (2005-2013, 2016), member of the Supervisory Board of the .hu TLD Registry from 2000 to 2011. János is a member of honour of CHIP since 2013.
Former work experience: systems programming in microcomputer environment (1986-1988), in industrial automation (1988-1990), in 4GL products (1990-1992).
He is co-author of the book "Tree Structures and their Applications", Technical Publishing House, Bucharest, 1990 (in Romanian).
János was member of the Hungarian team which won the third prize at the Programming World Championship for 4GL held in Stockholm in 1991.
Motivation
I am fully convinced of the importance of the RIPE NCC as a factor of stability of the Internet, as the RIPE NCC is the most important, impartial body of Internet self-regulatory structure in our region, not driven by commercial or political goals. The stability of the RIR system is important for the whole Internet.
The RIPE NCC must be flexible, able to adapt itself to the changing economic and political environment. With the strengthening of the personal data protection especially in our region, the implementation and continuous operation in accordance with the GDPR is a high priority. The transition to IPv6 is progressing slowly and IPv4 depletion is close. We have to make the transition to IPv6 as painless as possible for the large base of users of the Internet and to the members of the RIPE NCC, to the ISPs. The IoT world needs attention from the community and therefore from the RIPE NCC, as it will probably have a big role in the IPv6 adoption and deployment.
The Internet is in continuous change. The new generation has much higher expectations with regard to the available services. There is a continuous need for innovation. We have to make sure we offer the society a reliable and stable Internet on which these services can be offered.
I am willing to serve the RIPE community, and I would like to contribute with my technical knowledge and my management and financial experience to maintaining the stability of the RIPE NCC, to widening the range and improving the quality of the services provided in line with the needs of the membership. My main goal is protecting the interest of the membership in a transparent and accountable manner.
I hope I can get the support to continue my work within the Board. I will be very honoured if I get your endorsement for this.