Nurani Nimpuno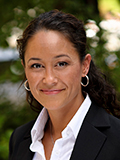 Name of nominee:
Nurani Nimpuno
Nominee's country of residence:
Sweden
Nominee's organisation or employer:
Netnod
Nominee's email address:
Biographical information
Nurani Nimpuno is the Head of Outreach and Communications Netnod. She manages all outreach, external relations and communications, as well as all external Internet policy and Internet governance matters.
Nurani is also a member of the ISOC-SE board.
She is deeply involved with Internet policy and Internet governance issues nationally as well as globally, and works on a broader level with Internet operational matters, including Internet exchange points, DNS and DNS root servers.
Nurani has been active in the Internet community for over a decade, participating in international Internet conferences globally. She is a frequent speaker at various Internet conferences, where she talks about Internet infrastructure, interconnectivity, peering and traffic exchange, DNS, (including DNS anycast services, DNS root servers), Internet resource policy and Internet governance.
Nurani served on the Multistakeholder Advisory Group (MAG) for the UN Internet Governance Forum (IGF) 2009-2013. In 2011, she was selected as one of five representatives of the technical and academic communities to the United Nations CSTD working group on the improvement of the IGF. In this work, where she represented the technical community, she liaised and worked closely together with representatives from all stakeholder groups, including civil society, the private sector and governments. She served on the NomCom for the selection of representatives of the technical community on the IGF MAG in 2013, and the NomCom for 1Net and Netmundial committees in 2014.
She previously worked as the External Relations manager at APNIC, the Regional Internet Registry (RIR) for the Asia Pacific region; there she worked closely with various Internet-related organisations across the region. Prior to that she worked as the Internet Address Policy manager at the RIPE NCC, the RIR for Europe, Central Asia and the Middle East. In her work for these organisations, she worked with the regional technical communities to develop policies related to the management of Internet resources, such as IPv4 and IPv6 addresses and AS numbers. She also worked on educational and Internet development programs as well as outreach and capacity programs across the regions.
She has been heavily involved with education, workshops, training courses, and seminars in the Internet community worldwide.
Filiz Yilmaz
Nominator's organisation or employer:
Akamai Technologies
Nominator's motivation:
Nurani Nimpuno has been deeply involved in RIPE and other RIR communities for one and a half decade.

Nurani can bring years of experience in Internet Governance and policy issues and can help RIPE Community keep engaged in these matters for the global link that this position is seeking to fill in. She very well understands RIR policy issues on a global and regional level and is connected with a wide range of technical and policy experts.

She has been an active actor in both the policy and operations' communities for many years and understands the needs and challenges of the technical community.

She will bring great value and energy to the group representing RIPE at the ICANN Address Supporting Organization (ASO) Address Council (AC).