RIPE NCC DNS Monitoring Services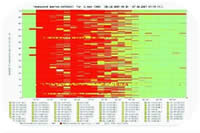 DNSMON provides a comprehensive, objective and up-to-date overview on the quality of service of the root servers, as well as of some participating country code Top Level Domains (ccTLDs).
Its main features are:
A high number of probes
Its method of presenting data.
How To Use This Site
You can get around this site by using the menu that is at the top of each page. If you want more detailed information, please see the user guide.
How to Contact Us
Please send your emails to dnsmon _at_ ripe _dot_ net. We give priority to mails from subscribers, but all emails will receive a reply.
We cannot subscribe new users to DNSMON at the moment. If you are a RIPE NCC member and would like to be placed on a waiting list for the service, please send an email to dnsmon-sales _at_ ripe _dot_ net. We will then contact you to discuss the service.