Suzanne Taylor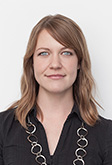 Expertise: Internet governance, public policy, RIPE and RIPE NCC, Regional Internet Registry (RIR) system, RIPE Labs
Suzanne Taylor is a Public Policy & Internet Governance Consultant.
In her work with the RIPE NCC, she engages with a broad range of Internet stakeholders including the RIPE NCC membership, governments, law enforcement and intergovernmental organisations.
From 2012 to 2016, she worked in communications at the RIPE NCC and has previously worked as a journalist and in media relations and science communications.