Suzanne Taylor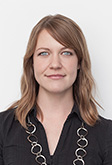 Expertise: Internet governance, RIPE and RIPE NCC, Regional Internet Registry (RIR) system, RIPE Atlas, RIPEstat, RIPE Labs
Suzanne Taylor is an External Relations Consultant for the RIPE NCC. She engages with a broad range of Internet stakeholders including the RIPE NCC membership, governments, law enforcement, and intergovernmental organisations.

Previously, she was responsible for external communications and media relations for Yale University's physical sciences and engineering departments. She also worked as a reporter at Canada's national news magazine, Maclean's, where she covered everything from science and technology to politics and culture.

Suzanne holds an Honours Bachelor of Science degree in astrophysics from the University of Toronto and a Master of Arts (Journalism) degree from the University of Western Ontario.