Mihnea-Costin Grigore
Expertise: RIPE NCC websites and services, Regional Internet Registry (RIR) system, Web technologies, Networking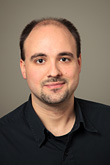 Mihnea-Costin Grigore is the Web Services Team Leader at the RIPE NCC. He is responsible for the smooth running of the Web Services team, constantly improving the web presence of the RIPE NCC and providing support to the RIPE community. This includes the development of new web-based projects, supporting RIPE Labs and the RIPE Meetings, and administration of the mailing lists.

Mihnea has in-depth knowledge of programming algorithms, web technologies, network and system administration, with a focus on practical applications. He also has a keen interest in Internet governance issues and maintaining the free and innovative nature of the World Wide Web.

Mihnea holds a Master's degree in Business Information Technology from the Academy of Economic Studies in Bucharest, Romania. Before joining the RIPE NCC in 2010, he worked for more than five years as a software developer and systems engineer.