Jochem de Ruig
Expertise: RIPE NCC Legal, RIPE NCC Finance and membership developments.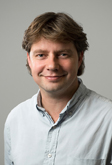 Jochem de Ruig is the RIPE Network Coordination Centre's (RIPE NCC) Chief Financial Officer. and is responsible for developing and maintaining the RIPE NCC's financial and administrative activities. He also oversees all of the RIPE NCC legal activities, including liaison with lawyers, Law Enforcement and National Prosecutors.
Together with the RIPE NCC's Senior Management Team, Jochem also develops organisational strategies to ensure that the RIPE NCC continues to meet the membership's needs.
Jochem has worked at the RIPE NCC since 2002. His initial focus was to stabilise and enhance the RIPE NCC's financial position and, as of 2006, Jochem has overseen all of the RIPE NCC's legal affairs. Jochem previously worked as Price Analyst and Marketing Controller at TNT Post International and as Controller at Sony International.