Test Traffic Measurement Service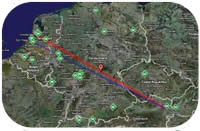 The Test Traffic Measurement Service (TTM) measures key parameters of the connectivity between your site and other points on the Internet. TTM allows you to comprehensively and continously monitor the connectivity of your network to other parts of the Internet.
TTM uses dedicate measurement devices (test-boxes) that geneate a small amount of traffic. TTM will not put a significant load on your network infrastructure. Also, TTM will not look at any data on your network, ensuring your privacy.
TTM is a full service offering. The test-box measurement devices are operated as a black box by the RIPE NCC staff. Once a test-box is installed, support from the customer's staff is limited to operations requiring physical access to the equi