Test Traffic Measurement Service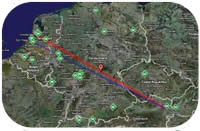 The Test Traffic Measurement Service (TTM) measures key parameters of the connectivity between your site and other points on the Internet. TTM allows you to comprehensively and continously monitor the connectivity of your network to other parts of the Internet.
TTM uses dedicate measurement devices (test-boxes) that geneate a small amount of traffic. TTM will not put a significant load on your network infrastructure. Also, TTM will not look at any data on your network, ensuring your privacy.
TTM is a full service offering. The test-box measurement devices are operated as a black box by the RIPE NCC staff. Once a test-box is installed, support from the customer's staff is limited to operations requiring physical access to the equipment.
TTM has been proven by more than six years of operational experience. A dedicated team at the RIPE NCC is working full time to continually improve the product and to adapt it to the user's needs. TTM users and other experts can make their future requirements known by participating in the open process of the RIPE Test Traffic Working Group.
The TTM service is available to the entire Internet community, including sites outside the RIPE NCC LIR service area as well as organisations who are not an LIR.
Installing a test-box
TTM test-boxes consists of a PC and a GPS antenna. They are easy to install, all you need is rack space, a connection to the Internet and a suitable place for the antenna. Test-boxes are pre-configured. All you have to do, is to switch the machine on and measurements will start.
Unique features
Other than techniques based on echoing probes (such as ping), TTM measurements are one-way and can analyze asymmetric effects.
TTM measurements are on the network level and independent from applications.
TTM measurements are independent of the underlying network, we do not use active network elements to monitor themselves.
TTM metrics and methodologies comply with current standards in RFCs 2330 and 2678 through 2681, published by the IETF IP Performance Metrics Workgroup.
Current products based on the data include:
Access to a secure site with results for

Delay measurements
Packet loss rates
Delay variations (jitter).
Bandwidth

Plots are updated daily and available for the last day, week and month. The "plots on demand" feature allows you to generate plots for other intervals. A full statistical analysis of the data is available.
Access to a database with routing information.
Notification of unexpected changes in the network via email or syslog, warning you before your customers complain.
Access to the raw data, al