DNSMON User Guide
What is measured?
How are the measurements presented?
What are the benefits of these measurements?
What is not measured?
How to navigate the site.
What is measured?
Domain Name System (DNS) queries are sent approximately once per minute to DNS root and Top-Level Domain (TLD) name servers. The queries are sent from about 60 locations worldwide, with the main concentration of queries coming from the RIPE NCC service region (Europe, the Middle East and parts of Central Asia). The elapsed time from sending the query to receiving the answer is measured.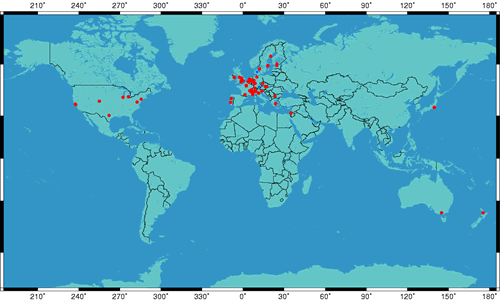 The query types used in our measurements are not typically applied in real name resolution. However, both the capability and the time to answer these queries are very similar to the referral queries used in name resolution. The server has to be running and correctly configured to answer our test queries.
How are the measurements presented?
Graphs are provided to depict the measurements from three separate views:
'Probe' view:
The 'Probe' view shows a number of graphs, one to each server as seen from the test-box that you select. You can use this view to look at DNS root and TLD service quality at one particular location. Because name servers are well connected and geographically dispersed, this view can also be helpful as an indicator of connectivity between the test-box location and the rest of the world.
'Server' view:
The 'Server' view shows measurements from all locations to a particular server. You can use this to assess the quality of the service provided by this particular server.
'Domain' view:
The 'Domain' view shows a number of graphs for each domain, one for the root and each monitored TLD as seen from almost all locations. You can use this view to assess the generic